Featured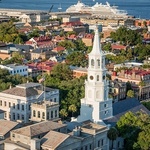 Balance is needed to preserve the character of a Charleston while encouraging economic development, a leading thinker on innovation and urban planning said.
read more »
---
Tom Leonard, the executive director of the Trident CEO Council, recently wrote a letter to the South Carolina Transportation Infrastructure Bank (SCTIB) urging the bank to support the extension of I-526 in the Charleston region.
read more »
---
Dental Dreams is committed to filling a much needed gap in South Carolina, providing services to low-income adults and children.
read more »
---
As the city of Charleston grapples with explosive population growth, one expert warns that policies limiting denser housing developments could hinder efforts to create more affordable housing.
read more »
---
CHARLESTON -- A zoning overlay aimed at providing flexibility to a proposed 14-story building passed the city council by a healthy majority earlier this month.
read more »
---