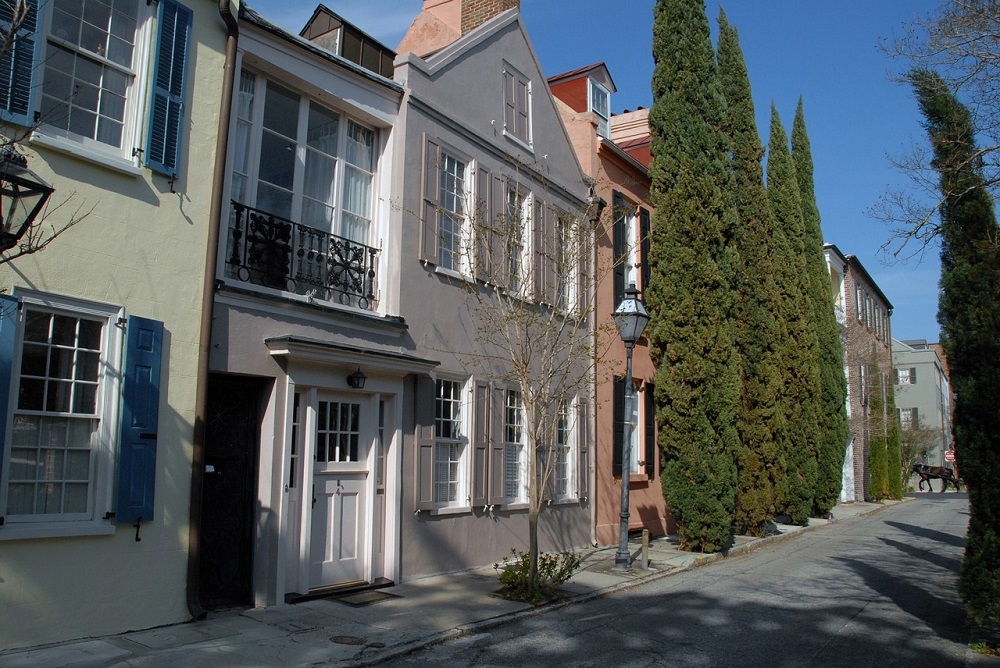 Enactment of strict land-use regulations can lead to what has already happened in San Francisco. File photo
Charleston runs the risk of economic stagnation if it follows the example of other once-dynamic regions, such as Manhattan and San Francisco, by passing overly strict land-use regulations, author and economist Tyler Cowen said.
Cowen, named "America's Hottest Economist" in 2011 by Bloomberg, is a professor at George Mason University and author of a new book, "The Complacent Class."
In that book, Cowen shares a number of reasons why he feels American innovation and economic vitality have suffered in recent years, and specifically addresses the "Not in My Backyard" (NIMBY) mentality that has negatively impacted some once-growing and dynamic cities.
"The culprit ... is the NIMBY mentality and related anti-growth obstacles," Cowen writes. "Residents in Manhattan, San Francisco and many other high-productivity locales just don't want all of those new people moving in, so they have passed overly strict building and land-use regulations or, in some cases, they have limited infrastructure so that adding more residents just isn't practical."
In the book, Cowen also issues a warning for growing cities like Charleston.
"The growing cities in the American South may over time increase their land-use regulations to maintain what is a new and growing exclusive status," he writes. Economists Chang-Tai Hsieh and Enrico Moretti "estimate that increasing the toughness of land-use regulations in the South to a level comparable with those in New York, San Francisco and San Jose would cost the American economy about 3 percent of GDP."
Cowen's warnings have come to fruition in the Charleston area, where some local policymakers and special interest groups have proposed or passed strict land-use regulations, or tied up new developments in court.
The Mt. Pleasant Town Council has passed a series of moratoriums on the construction of new apartment buildings, and is considering a proposal to triple development impact fees in the town.
Last year, The Beach Company and the city reached a settlement to proceed on the redevelopment of the peninsula's "Sgt. Jasper" property, a project that had long been stalled due to opposition from neighborhood groups and the city's Board of Architectural Review over alleged density and height restriction concerns.
Mark Smith, a town council member in Mt. Pleasant, said he long has been concerned about the effects of onerous land-use regulations. Smith said it had been his goal as chair of the town's Economic Development Committee and as a member of the Planning Committee to learn from the successes and failures of other high-growth municipalities.
"Taking the easy way out and just voting 'No' on every development project is not a financially sustainable option for our town," Smith said. "Elected officials have to be willing to take unpopular positions at times and seek solutions that will create results to relieve traffic congestion; create affordable housing options; add transportation options; and immediately repair, replace and expand our aging infrastructure."
Smith said all of those items are interrelated and have to be addressed together.
"The sooner municipalities spend more time collaborating on each of these issues from a regional perspective -- with significant public- and private-sector input -- the sooner we will see results that will allow our communities to thrive," he said.
While Cowen did not specifically study Charleston for his book, he warned that enactment of strict land-use regulations can lead to what has already happened in San Francisco. That is, when cities decide to severely restrict development, housing prices spike, low- and middle-income residents are pushed out, and fewer people can afford to settle in the cities.
"I have been there (Charleston) four times. It is a beautiful town but it is runs a risk that it will stand still," said Cowen, who added that enacting strict land-use regulations could cause the city to "go the full San Francisco."
Cowen warned that not only could low- to middle-income residents be pushed out of the city, but that overly broad restrictions "will stop everyone getting in."
"I am no expert on Charleston, but I have seen many cities make mistakes that lead to people being kept out, and that makes it worse for themselves," he said.
And to city lawmakers and planners, Cowen advises, "Keep a pro-growth mentality in mind."
Local resident Richard Garcia, executive vice president at T.Y. Lin International/Lindbergh and a member of the Trident CEO Council, noted that the City of Charleston is working to address the issue, but warned against other area municipalities that are taking more of an anti-growth stance.
"It's clear that within some cities and municipalities in the Lowcountry, onerous land-use regulations are threatening housing affordability, while impacting the quality of life," Garcia told Palmetto Business Daily. "These restrictions encourage sprawl, longer work commutes and the need for more roads and infrastructure."
Garcia also said that the ability to work, live and play is an opportunity that "should be afforded to all classes in our community."
"Rather than limit these opportunities to a few through the enactment of restrictive land-use regulations, policymakers should seek smart solutions to encourage the development of smaller, more livable, walkable communities that can increase the quality of life while maximizing productivity and the time constraints of our daily lives," Garcia said.
Cowen isn't the only national expert issuing a warning to Charleston-area policymakers about the dangers of enacting San Francisco-like regulations.
In an interview with Palmetto Business Daily this March, national urban planning expert Wendell Cox warned that strict land-use regulations are causing housing costs to spike in the Charleston area. The average cost of a house is the equivalent of 4.4 years of medium household income.
Cox warned local lawmakers to look to a city like San Francisco, where the number is 9.5.
"It is going to mean lower income or middle income will not be able to live in these municipalities," Cox said. "It is a real problem. We are in the process of seeing housing affordability go through the floor."