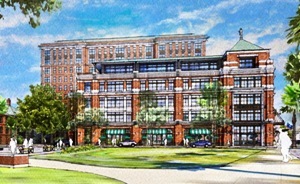 Charleston City Council's recent approval of a new "Gateway Zoning Overlay" within certain areas — effectively permitting property owners to swap commercially zoned square footage for residential use — has met with mixed reaction from residents in the area.
"For several years, the city and public participants indicated that residential was preferred as the primary use at certain gateway locations," John Darby, CEO of The Beach Company, said. "Tonight's vote advances that vision and will now provide an alternative that otherwise never existed."
After a planning commission initially refused the proposal, the City Council subsequently authorized the plan, feasibly to balance residential and commercial development but sparking controversy among involved parties.
The ordinance was amended prior to the council vote to include affordable housing requirements as well.
The Beach Company favors the change in order to increase the currently permitted maximum of 80 units on its Sergeant Jasper property to 324 units, but West Ashley stakeholders -- specifically the Charlestowne Neighborhood Association -- fear the potential consequences of overdevelopment as well as implications raised about setting a precedent for future policy.
Located at Lockwood Boulevard and Broad Street, the Sergeant Jasper complex proposal is viewed as a potential source of traffic gridlock by Mount Pleasant and peninsula area residents.
J. Randolph Pelzer, chairman of the Charlestowne Neighborhood Association's zoning committee, stated that it is imperative to postpone large projects until infrastructure issues are addressed.
"Do West Ashley residents really want their council members to support zoning changes allowing complexes similar to the Boulevard or the proposed Jasper at the entry to their neighborhoods?" Pelter said. "Do they want hundreds of small apartments and a large commercial component at the gateway to their neighborhoods on their already overly congested major road arteries?"
Want to get notified whenever we write about The Beach Company ?
Sign-up Next time we write about The Beach Company, we'll email you a link to the story. You may edit your settings or unsubscribe at any time.
Organizations in this Story
More News