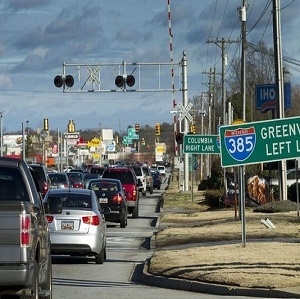 Even as the federal government picks up the entire tab for Medicaid expansion, the Obamacare program appears to crowd out state spending on infrastructure, according to a report from the privately-funded Mercatus Center, at George Mason University.
Report author Marc Joffee told Palmetto Business Daily that the findings suggest that the problem could get even worse as states like South Carolina, which are working to find ways to make necessary investments in infrastructure, face greater Medicaid liabilities beginning next year.
"I think the report gives people a reason to worry about Medicaid expense," Joffee said. "Those states that have expanded Medicaid are spending more on it, and that risks crowding out other types of expenditure."
South Carolina Gov. Nikki Haley has thus far rejected Medicaid expansion — a program under Obamacare that gives states access to more federal grants in exchange for growing the program's reach to non-elderly people at 133 percent of the poverty level. Though South Carolina has faced a budget crisis similar to many other states, the legislature voted to allocate new roads funding as part of the $7 billion budget passed in 2015.
Many pundits anticipate that states resisting the expansion will eventually fall in line and accept the expansion. In Louisiana, the election of Democrat John Bel Edwards was followed by an immediate acceptance of federal expansion that former Gov. Bobby Jindal has resisted.
Some states, meanwhile, have accepted the expanded coverage under alternative models. In Arkansas, an effort to repeal the "Arkansas Works" Medicaid voucher program failed after Gov. Asa Hutchinson used a line-item veto to repeal a clause that would have put a "sunset" on the program.
Part of the issue, Joffee explained, is that expanding the program appears to facilitate greater use of the program overall, resulting in higher costs.
"When you make something more available, people find out about it and people who were eligible before who weren't taking advantage of it will come out as well," he said. "I think that Medicaid expansion … could have pretty serious fiscal implications for South Carolina if they went ahead and did it."
Under the expansion, states initially receive 100 percent reimbursement from the federal government to cover the expanded claims. Beginning next year, the matching grant decreases year-over-year through 2020, until it drops to 90 percent.
Joffee's study contradicts estimates made immediately following the passage of the law. In its initial analysis of Obamacare, the non-partisan Congressional Budget Office estimated that the expansion would increase state costs for health care expenses by 2.8 percent between 2012 and 2022. In 2012, however, the left-leaning think tank Center on Budget and Policy Priorities argued that the estimated increase did not take into account savings states would realize in overall health care costs for the uninsured.
Joffee said that states and the federal government can take measures to reduce costs for Medicaid. In a previous study he conducted for Mercatus, he found that patent protections and exclusive marketing rights for prescription drugs were driving costs, and reforming those efforts could result in significant savings.
"Sometimes a drug may not be all the innovative, but it's still getting sold for maybe 10 times as much as an over-the-counter drug," Joffee said.
He also said that states could mitigate costs by repealing rules that bar mid-level health care professionals —such as a nurse practitioner — from providing basic-level care, such as screenings. South Carolina is currently one of 13 states that bar nurse practitioners from offering care services without the oversight of a physician, according to a 2015 analysis by the Simmons College School of Nursing and Health Sciences.
Such reforms, Joffee said, are particularly important for controlling costs as elderly patients become a growing percentage of the population.
"There's a lot of concern that, over time, as we have more-and-more older people because of baby boom, we could have a lot of people in nursing homes," he said. "They're getting Medicaid, not Medicare."
Editor's note: A previous version of this article incorrectly identified Mercatus as a part of Georgetown University.
Want to get notified whenever we write about U.S. Congressional Budget Office ?
Sign-up Next time we write about U.S. Congressional Budget Office, we'll email you a link to the story. You may edit your settings or unsubscribe at any time.
Organizations in this Story
U.S. Congressional Budget Office
More News