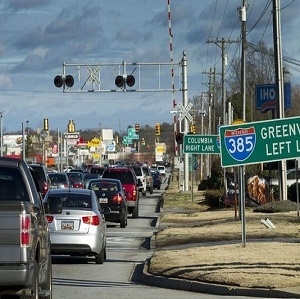 The lack of a comprehensive funding plan to improve South Carolina roads is hurting the Charleston region's business climate, said the head of the Trident CEO Council.
"There are several implications of the lack of movement on infrastructure issues in our region," Marc Fetten, chairman of Trident CEO Council and president and CEO at Cooper River Partners, recently told Palmetto Business Daily.
Fetten explained that infrastructure is a key aspect of a competitive business environment.
"Logistical costs account for 8 percent to 9 percent of the nation's GDP, which in turn drives prices for the goods we purchase," he said. "Companies go to great lengths to optimize their supply chains from raw material to finished goods movements in an effort to reduce product costs and remain competitive."
Fetten also explained that the quality of a location's infrastructure is directly related to that location's cost of living and Charleston is feeling the effects of this. "There is a cost to poor infrastructure that residents and consumers will pay for one way or the other," he said.
Recruiting new businesses to an area with logistical challenges is difficult. "Historically Charleston and other coastal cities with good port infrastructure have performed well in economic performance, wage and job growth," Fetten said. "Companies look closely at the continuation of the port infrastructure toward inland markets and production locations."
The region has developed very successful models, including rail connectivity to inland port locations. Fetten advised that the state must apply those principles to the road system that for many businesses and employees serves as the primary transportation route.
"Efficient labor markets rely on mobility," Fetten said. "Talent needs to be able to access corresponding positions at the right time. Without the ability to commute effectively, portions of the workforce can become disconnected from available jobs, inhibiting economic prosperity for our region's workforce. Employers are also adjusting shift schedules to avoid high traffic periods."
The environment and new regulations also have to be taken into consideration.
"Environmental costs of traffic congestion has been studied extensively and while the estimated impact varies greatly, it is safe to say that CO2 and other emissions are higher in areas of traffic congestion," Fetten said. "This is important for businesses that strive for sustainability measures and for residents who demand a quality of life not negatively impacted by avoidable emissions."
Fetten said that common ground is hard to come by, but it is safe to say the region's traffic issues are largely created because of population growth.
"While there are many measures to improve traffic flow without increasing road capacity, technology continues to evolve, adding real time intelligence to logistical challenges," he said. "Timed releasing of trucks from port terminals or manufacturing locations during available traffic scenarios, signal optimization and telecommuting are just a few of many solutions to help alleviate traffic congestion without adding infrastructure."
Fetten argued, however, that it is not realistic for people to think that such efforts could produce enough efficiencies to absorb a 50 percent population increase. "Predictions are that our region will reach a population of over 1 million in the next 10 years," he said.
Fetten stressed that population growth will bring demands for mobility and therefore physical infrastructure. A large part of this growth will travel on roads, but with sufficient density, other options including mass transit will become more available. To accomplish this, though, additional roads and additional funding will be required.
"While there are many proposals on the table, a user-driven fee that matches funding with use, such as a tax on gasoline, seems most realistic and fair to me," Fetten said. "Especially when considering that a portion of the road use, and therefore funding would be generated by non-residents."
Want to get notified whenever we write about Trident CEO Council ?
Sign-up Next time we write about Trident CEO Council, we'll email you a link to the story. You may edit your settings or unsubscribe at any time.
Organizations in this Story
More News