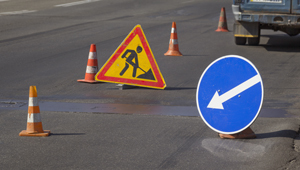 The South Carolina Alliance to Fix Our Roads (SCFOR) is hoping to gain more support for much-needed improvements to one of the largest state road systems in the country.
"SCFOR has been around since 1981, and our mission is to support safe, effective and efficient infrastructure in South Carolina," Bill Ross, executive director of SCFOR, recently told Palmetto Business Daily. "South Carolina has grown at an average of 40,000 new drivers each year; and we struggle with infrastructure, with some of the most dangerous roads in the country."
Ross explained that new technology, manufacturing and tourism businesses coming into South Carolina have created even more demand for better roads.
"Volvo, Mercedes, Boeing and many more are coming into the state on almost a daily basis," Ross said. "But recent studies still show we are still ranked the third lowest for most dangerous roads in the country."
Right now, SCFOR aims to broaden its base and grow the organization to gain more exposure and get the message out about why road improvements are imperative to the successful growth of South Carolina.
"We are incorporating the construction and building industries, with 18 statewide associations, like the Farm Bureau and AAA, as well as many organizations, businesses, companies and individuals," Ross said. "We are trying to keep the needle moving forward, and we are trying to get the reform that is necessary to make road improvements possible."
The Trident CEO Council, located in Charleston, recently joined the alliance.
Jordan Marsh, associate director at SCFOR, recently told Palmetto Business Daily that South Carolina is already receiving the maximum amount of funding allowed from the federal government for improvements, which is 65 percent. It is still not enough to fix the problems that currently exist.
"We have 41,000 miles of roads, and we have the fourth largest road system in the country," Ross said. "At this point we need to completely redo the roads rather than just repair certain areas. It has been put off for so long that it is now going to be five times more expensive than the costs would have been to simply maintain the roads."
Ross noted there are considerable road blocks to overcome, especially since raising taxes is regularly taken off the table.
"The no tax pledge in 2015 has hurt us, as well it being an election year," he said. "Income tax was also cut from 7 percent to 5 percent, so we are concerned about how we are going to get the funding needed. We need 1.2 billion to 1.4 billion dollars annually to get our roads to 'good' status."
Ross explained that many businesses and industries are starting to get on board with the SCFOR because it is costing them more not to fix the roads.
"For example, trucking companies are supporting the need for better roads because it is costing them more in repairs than what they would pay in taxes that would go to the roads," Ross said. "Businesses do not usually support taxes, but in this case it is cheaper than what they are losing with the roads as they are."
Ross said that SCFOR's goal is to get the public at large involved through different media campaigns.
"We have 25,000 likes on Facebook and 600 followers on Twitter, and interest is growing," Marsh said. "Social media involvement is a good way to keep people informed of the importance of getting these roads fixed."
Ross also explained that there is a broad mix of revenue sources the state could use. He said Georgia and North Carolina are good examples of what revenue from fuel user fees can do to contribute to infrastructure, and South Carolina needs to take advantage of the same types of revenue.
"We need to increase the motor fuel user fee rate," he said. "License and registration fees could also help, but they have not been raised since the 1980s. Usually if a governor is behind infrastructure improvements, it is successful. The last few have not supported it, so nothing has been done."
Ross said that South Carolina is not only growing in business, but it is also growing in tourism. The state has some of the best beaches on the East Coast and is in the top 10 for tourism in the world.
"With the growth of businesses and tourism alike, it is important to create a safer, more efficient system," he said. "Otherwise, we will lose out to other states like Georgia and North Carolina."
Want to get notified whenever we write about South Carolina Alliance to Fix Our Roads ?
Sign-up Next time we write about South Carolina Alliance to Fix Our Roads, we'll email you a link to the story. You may edit your settings or unsubscribe at any time.
Organizations in this Story
South Carolina Alliance to Fix Our Roads
More News