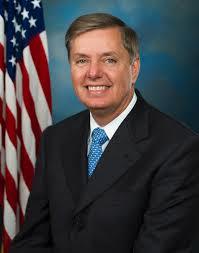 Graham announces presidential candidacy Courtesy of wikipedia.org
South Carolina Sen. Lindsey Graham is running for president with a familiar Republican economic platform, touting lower taxes and an end to "complex, burdensome" regulations.
But he isn't touting the top business priority of tort reform, a distinction perhaps unnoticed by voters that's proved glaring in an active Congressional debate over reforming asbestos lawsuits.
At issue, the Furthering Asbestos Claim Transparency (FACT) Act of 2015, currently pending in the U.S. House. It was created in response to increasing evidence of asbestos lawsuit fraud.
Last year, a U.S. Bankruptcy judge in North Carolina unearthed fraud in lawsuits against the manufacturer Garlock. Fifteen cases were examined, and all fifteen were found to be based on fraudulent claims. The company paid out $18 million to the offending plaintiffs, who, led by their lawyers, had made a habit of suing multiple companies alleging each were responsible — and should pay damages for — the same sickness.
An influential member of the U.S. Senate Judiciary Committee, which will review the legislation, Graham hasn't said whether he supports or opposes the bill, which seeks to end "double and triple dipping" by asbestos plaintiffs by requiring the information on claims made and money collected to be made public.
Victimized for decades by fraudulent asbestos claims, the business community is vying for the FACT Act's passage. Plaintiff's lawyers, who collect money on illegitimate claims and benefit from an opaque system, are in vehement opposition. Graham, uniquely for a Republican, counts major campaign supporters from both camps.
Asked whether he has settled on a public position, Graham's office told Palmetto Business Daily he "continues to review this legislation."
Two groups leading opposition to the legislation are the Environmental Working Group, a nonprofit environmental research organization based in Washington, D.C., and the American Association of Justice, formerly the Association of Trial Lawyers of America.
The Environmental Working Group continues to cite a 2004 report it released, "Asbestos: Think Again", in its current efforts to oppose the FACT Act. According to the group's Web site, that report "would not have been possible without the financial, intellectual and material support of the Association of Trial Lawyers of America (ATLA)," including "a grant in the amount of $176,000 from ATLA to the EWG Action Fund in October 2003."
According to opensecrets.org, the American Association of Justice (formerly ATLA) is one of Sen. Graham's top contributors, having contributed $27,500 to his campaign committee and leadership PAC during the period 2011-2016.
Asbestos is the primary cause of mesothelioma; it can also cause an increased risk of lung cancer and scarring of the lung tissue, which restricts the ability to inhale, according to the Environmental Protection Agency.
Want to get notified whenever we write about U.S. Senator Lindsey Graham ?
Sign-up Next time we write about U.S. Senator Lindsey Graham, we'll email you a link to the story. You may edit your settings or unsubscribe at any time.
Organizations in this Story
More News