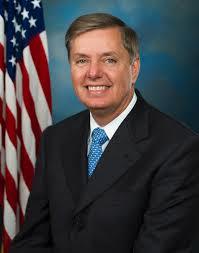 Graham announces presidential candidacy Courtesy of wikipedia.org
The U.S. House of Representatives is expected to start debate on the "Furthering Asbestos Claim Transparency (FACT) Act of 2015" later this month and, if the bill advances to the Senate, South Carolina's senior senator could hold the key to advancing it further.
The legislation would amend title 11 of the United States Bankruptcy Code, thus requiring public disclosure by asbestos bankruptcy settlement trusts according to section 524(g) of the title.
If passed, the bill would require asbestos bankruptcy trusts to release information on those seeking compensation due to asbestos exposure in quarterly reports, including detailed information regarding the receipt and disposition of claims for asbestos-related injuries.
"Abuse of the asbestos compensation system is a national problem," said Lisa A. Rickard, president of the U.S. Chamber Institute for Legal Reform, when the U.S. House Judiciary Committee passed the FACT Act in May.
The bill is similar to a state-level legislation, Senate Bill 281, that was introduced by South Carolina Senator Shane Massey (R-25) earlier this year. That legislation was supported by the SC Civil Justice Coalition.
"Exploitation of the system drains the funds available to deserving claimants and forces solvent companies, as well as their shareholders, to pay more than their fair share when plaintiffs' lawyers file 'double dip' claims in court and in the trust systems," continued Rickard. "The FACT Act would diminish the damaging economic ripple effect of these abuses, while preserving assets for future asbestos claimants."
If the full House, as expected, passes the bill later this month, the legislation then heads to the U.S. Senate, where it will be considered by the Senate Judiciary Committee. At that stage, U.S. Senator Lindsey Graham (R-SC) could play a deciding role in the future of the bill.
The bill is staunchly opposed by the plaintiffs' bar.
The full U.S. House of Representatives passed the FACT Act in the past legislative session, back in November 2013.
More News